TITLE:
Anna Hersche Must Die!
DATES:
21st, 22nd July 2013
WRITTEN BY:
Jez Curtis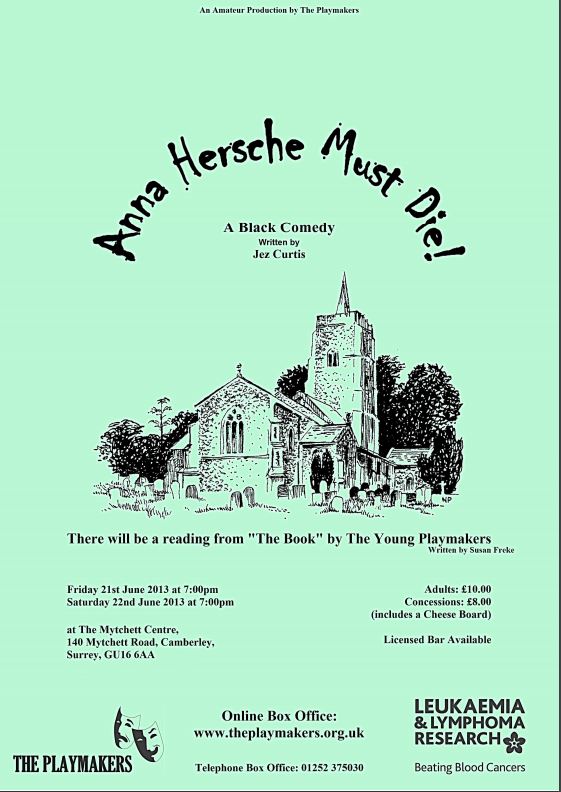 SYNOPSIS:
Following the bizarre death of rock star Jim Wayward, glamorous tabloid giornalista and compulsive shoplifter, Anna Hersche, revisits the village of her childhood. Is this the tragic story of an aging rocker's terminal spiral into despair and isolation? Or is this a horrific parable on the dangers of unchecked ambition? Either way Anna's not overly fussed, as long as her story sells!
CAST:
Vicar – Scobie
Jane – Emma DeGionanni
Anna –  – Susan Freke
David – Gavin Fouracre
Jim – Mike Williams
Harriet – Nadia Maggiore
Tom – Phil Millington-Hore
Christopher – Jon Tebb
John – Tony Bowman
Peggy – Sian Ramsden
CREDITS AND CREW:
Written and Directed by Jez Curtis
Produced by Susan Freke
Publicity – Sian Ramsden, Annabel Brash
Programme design – Sian Ramsden
Flyer design – Phil Millington-Hore
Box Office – Annabel Brash, Gordon Young, Fiona Wassan
Costumes – Shirley Hunt
Stage Manager – Dave Craven
Make Up – Valerie Smythe and helpers
Front of House – Helena Higgitt and team
Runner – Kerryanne Jewel
Prompt – Scobie
Set Design and management – Lee Cudmore-Ray
TITLE:
The Book
Performed By The Young Playmakers
DATES:
21st, 22nd June 2013
WRITTEN BY:
Susan Freke
SYNOPSIS:
Take a bunch of children with vivid imaginations, one ancient mysterious book and a hot summers evening and what do you get? Screams tears and a thrilling experience is what you get, so sit back and enjoy. Susan Freke thoroughly enjoyed writing this little playlet for our talented Young Playmakers, we are very proud of how they have developed.
CAST:
The Woman – Jo Roome
Julie – Ellen Davis
Anna – Gaby Wassan
Patsy – Emily Roome
Georgina – Ella Tanner
Kira – Evie DeGiovanni
Katie – Emily King
Carly – Marina Voutchkova
Chantelle – Lily Rowlands
Sasha – Mia DeGiovanni
Saffron – Isabelle Peacock-Boothroyd
Lauren – Catherine Peacock
 CREDITS AND CREW: 
Producer – Susan Freke
Director – Chris Wassan
Choreography – Emma Louise Young, Annabel Brash
Music arrangement – Gordon Young
CREW AS ABOVE