TITLE:
Just Deserts
DATES:
Summer 2012
WRITTEN BY:
Susan Freke and Fiona Wassan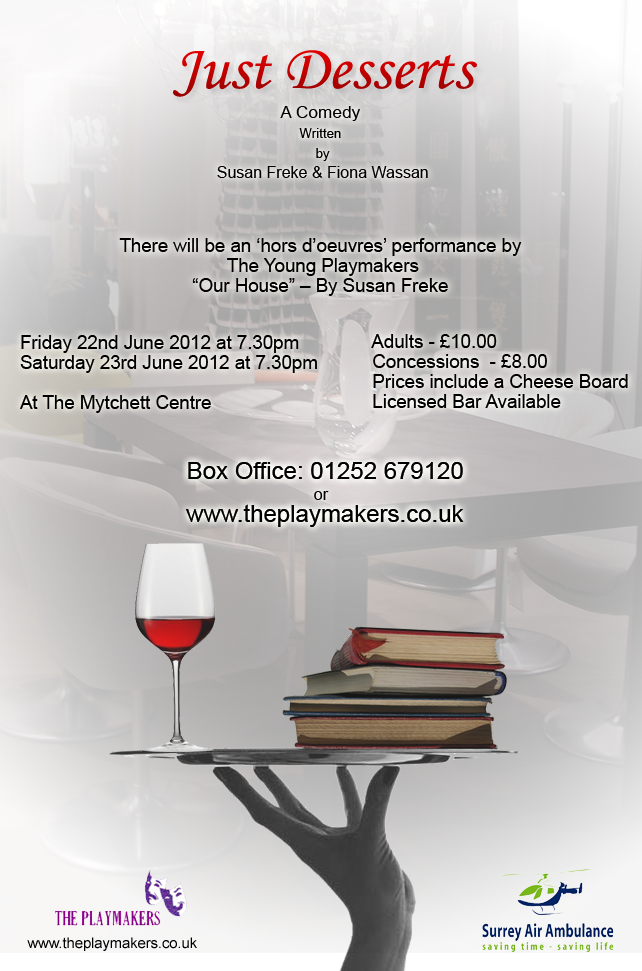 SYNOPSIS:
Just Desserts was the adult play,  It tells the tale of a dinner party with a twist.  
CAST AND CREDITS:
DIRECTED BY – SUSAN FREKE
PRODUCED BY – SUSAN FREKE – JOAN HURREL
JOHNNY – JEZ CURTIS
RALPH – CHRIS WASSAN
MALCOLM – GAVIN FOURACRE
CAMILLA – EMMA ERANGEY
JANE – BECKY HOWELLS
MAGGIE – SIAN RAMSDEN
LUCY – EMMA DEGIOVANNI
ANITA – ANNABEL BRASH
RUSSEL – GEOFF YOST
FRANK – STEPHEN TURNER
NIGELLA – NADIA MAGGIORE
TITLE:
Our House
Performed By The Young Playmakers
DATES:
Summer 2012
WRITTEN BY:
Susan Freke.
SYNOPSIS:
The Young Playmakers supported the above play with "Our House", which was written by The Playmakers member Susan Freke. The play was about 2 families whose mothers take them to see gran. There is a lot of family rivalries as members of each each family tries to impress the gran.
CAST & CREDITS:
WRITTEN BY – SUSAN FREKE
DIRECTED BY – ANNABEL BRASH
GRAN – RENE GLASSCOCK
SARAH – CHERYL BEACH
TANYA – SHIRLEY HUNT
MILLY – HOLLY FREKE
PJ – MARINA VOUTCHKOVA
MOLLY – ELLIE SECOMBE
PORTIA – CATHERINE PEACOCK
MADDIE – EMILY KING
PETRA – ANNA PENKOVA
MANDY – HANNAH YOUNG
MARIE – GABY WASSAN
POLLY – EMMA YOUNG